Wellness Inventory
Ready to Bring More Balance into Your Life?
The Wellness Inventory is a "whole person" wellness program that helps you gain personal insight into your physical, emotional, and spiritual wellness. The program offers guidance and tools to transform this new awareness into lasting changes in your life and a renewed sense of health and wellbeing.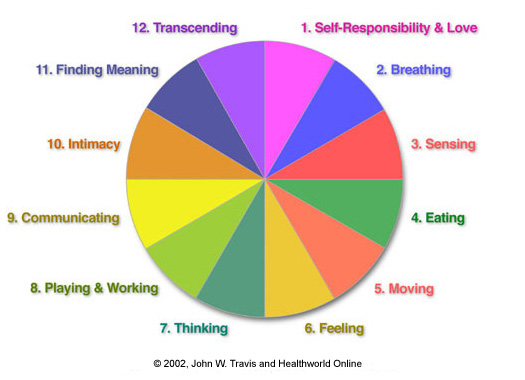 The Wellness Inventory determines your state of balance in 12 key areas of your life, identifies specific areas you are motivated to change, and guides you in creating a personalized wellness action plan. Finally, the program provides valuable tools, resources and services to help you reach your wellness goals and bring more balance into your life.
5 Steps to Wellness
Step 1: Take The Assessment: Raise your awareness of the impact your behaviors, thoughts and attitudes on your health and well-being as you take the assessment and discover your state of balance in 12 key areas of lifestyle.
Step 2: Receive Your Scores: Receive your wellness and satisfaction score for each area & learn where you are most motivated to change.
Step 3: Create Your Personal Wellness Plan: Create 3 to 5 action steps in the key areas you are most motivated for lifestyle change.
Step 4: Tools to Help You Realize Your Goals: The program allows you to access a suite of tools to help you follow your wellness plan and meet your goals like your Wellness Home Page, Wellness Journal, Self-Study Center and more.
Step 5: Supporting Ongoing Wellness: Reasses in six months to monitor your progress - to create an ongoing state of balance in your life.
Subscribe to the Wellness Inventory:
For $39.95, this is an opportunity you will definitely want to take advantage of for the sake of your health and well-being
Access to the full Wellness Inventory program for one year. You can take the assessment semi-annually, create personal wellness action plans, receive regular email reminders, and access the wellness resource centers, "My Wellness Journal", and the Self-Study Center. After six months retake the assessment and evaluate your progress with the "View Test Comparison" feature.
To Subscribe:

CLICK HERE


Enter the group name:
SimplifyLife


And sign on as a new user.

You will be redirected from simplifylife.com directly to the Wellness Inventory Website to make your payment and complete your purchase.

Return to the top of the page


Simplify
Welcome . eNewsletter . Simplify Life Products . Self-Help Books . Self-Help Products . Coaching, Consulting & Training . Linda in The News . Getting Started . Find Your Perfect Job . Contact Us